The Blackwell Pages is a trilogy written by Authors K.L. Armstrong and M.A. Marr. Illustrator Vivienne To did both the cover and interior art for the trilogy. Each book contains twenty-five interior illustrations by To.
Loki's Wolves (May 7th, 2013)
Odin's Ravens (January 1st, 2014)
Thor's Serpents (March 1st, 2015)
Series development
Edit
The Blackwell Pages was written for the sons of K.L. Armstrong and M.A. Marr; the two boys had been twelve-years-old when the series begun, and wished to read something with more adventures and less romance.[1] Marr's son, Dylan, is Norwegian/Russian on his dad's side.[1] The Blackwell Pages started as a series for Dylan, who was at the time dismayed by the lack of Norse books.[2]
Loki's WolvesEdit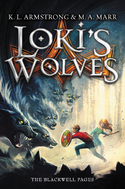 Main article: Loki's Wolves
Welcome to Blackwell, South Dakota. Population: 2200, many of them descended from the Norse gods Thor and Loki, including 13-year-old Matt Thorsen and his two delinquent classmates Fen and Laurie Brekke. When Matt is deemed old enough to attend his family's secret meetings in town hall and is named Thor's representative in Ragnarok he enters an unlikely alliance with Fen and Laurie, descendants of Loki, to stop then end of the world and avoid dying fighting a giant snake, contrary to his family's wishes. Together the three travel across South Dakota to track down descendants of Frey, Freya and Balder to aid in their quest.
Odin's RavensEdit
Main article: Odin's Ravens
After the death of Baldwin, descendant of Balder, Matt, Fen and Laurie must travel to the afterlife to resurrect their fallen friend before Matt's Grandfather can frame Fen for his murder. Meanwhile, Owen, descendant of Odin, faces a long foreseen fate at the hands of Fen's kin as the myth of Ragnarok begins to play out.
Thor's SerpentsEdit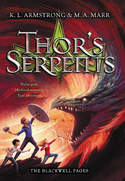 Main article: Thor's Serpents
Matt, Laurie and Fen have beaten near-impossible odds to assemble their fellow descendants and champions of the Norse gods, coming face-to-face with trolls, fire-breathing monsters and even death. Now they have to tackle their most epic quest of all time: stopping the apocalypse in it's tracks. With the fate of humanity hanging in the balance, there isn't a lot of room for mistakes- and to save the world, each of them must learn what it really means to be a champion.
External links
Edit
References
Edit
Community content is available under
CC-BY-SA
unless otherwise noted.